During my time in New York, I was incredibly fortunate to have Singer/Songwriter Victoria Shaw join me as a Guest Reviewer for Ma'amCakes!
Victoria, a two time Emmy-award winning Songwriter, has written many hits such as "The River" for Garth Brooks, and "Nobody Wants to Be Lonely" for Ricky Martin & Christina Aguilera. In addition to these artists, Victoria's songs have been recorded by Billy Ray Cyrus, Faith Hill, Olivia Newton-John, LeAnn Rimes, Reba McEntire, Tricia Yearwood, Michael McDonald and many more, and have collectively sold more than 65 million albums! In fact, last February, I was lucky enough to be Victoria's date for a 2013 Grammy Event!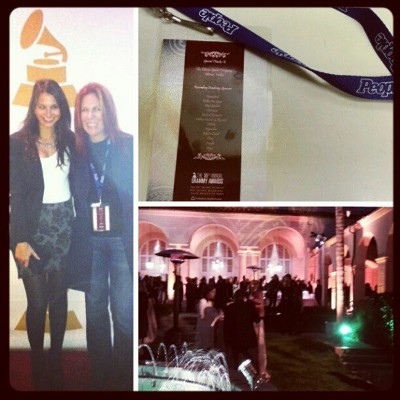 Victoria and I at the 2013 Grammy Event at the Elbell Theater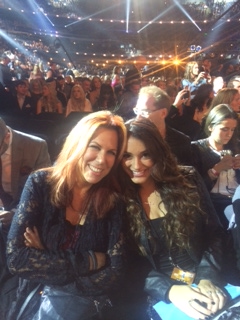 Victoria and new artist Lacy Cavalier at the CMA Awards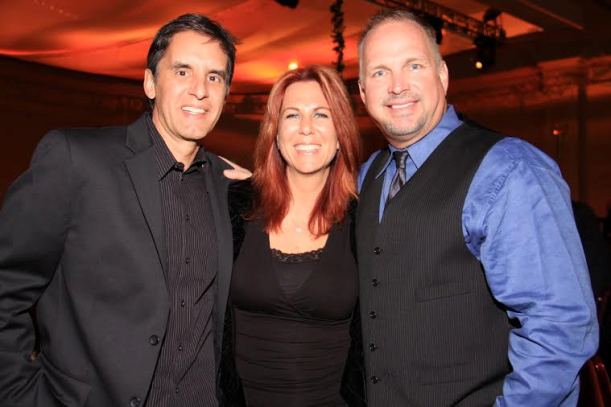 Bob Locknar, Victoria, and Garth Brooks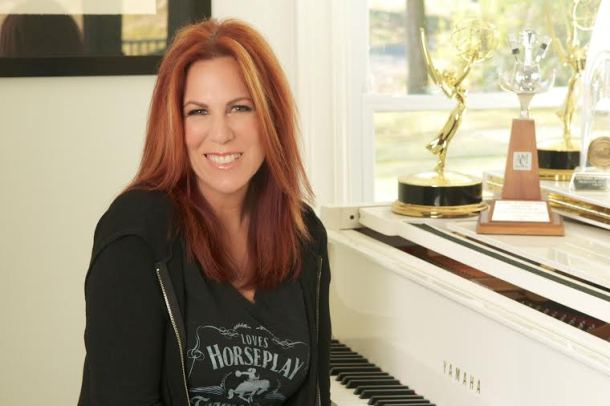 While Victoria currently resides in Nashville with her husband Bob Locknar and their two fabulously talented daughters, Victoria also happens to be my parents' neighbor! When in NYC for work (and sometimes for fun!), Victoria lives down the hall from my parents. Our families have spent a lot of time together, but the funniest memory I have with the Locknars (which wasn't so funny at the time), was the night we had to stay at Victoria's apartment due to construction in our apartment, while Victoria was simultaneously going into labor with Ruby. Needless to say, we're not known for our timing!
When Victoria is home in Nashville, my family keeps an eye on her apartment, and as you can see from the photo below, she's very appreciative (particularly in the "PS!"):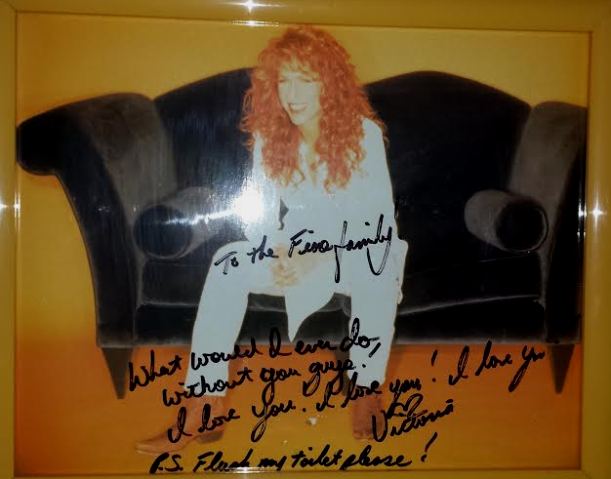 When Victoria and I finally got to sit down for pancakes, it was quite a treat! As The Flame is one of Victoria's (as well as her daughters', and my grandfather's) favorite diners in New York, we went as a group on the last Friday of 2013.

To ring in 2014 with a healthy start, Victoria and I decided to split the Multi-Grain pancakes, served with fresh bananas and strawberries.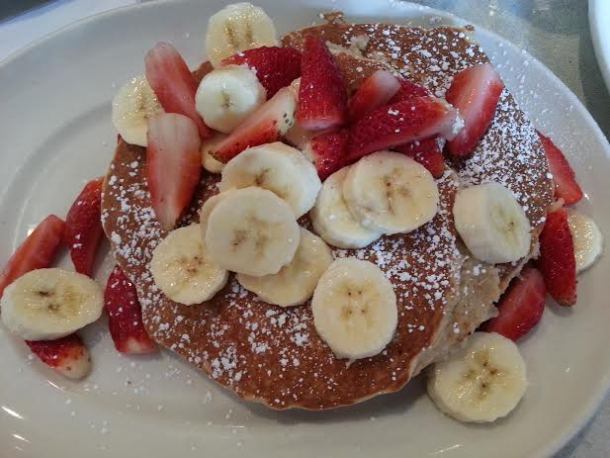 I have to say, for typical "Diner Pancakes," these tasted pretty good, and surprisingly fresh. Victoria agreed, as she said "these are meaty, but not doughy." Between the multi-grain batter, and the deliciousness of the bananas and strawberries, we definitely felt like we were eating a healthier breakfast – not something you can frequently say for a diner! "I'm not really a pancake snob," said Victoria (ahem, like some people!), "but these taste like my mom's kitchen comfort food – that is, if my mom cooked!" Well, maybe after that comment she'll start cooking! When asking Victoria which pancakes she would order next time, her reply was "Whole Wheat." Keeping it healthy, I like it!
Thanks so much Victoria, for being a part of Friday brunch with Ma'amCakes! Be sure to check out Victoria's latest artist whom she's taking under her wing, singer Lacy Cavalier.