When parking my car on S. Corning St. one summer Sunday morning, never did I think the Guest Review I was about to embark on would be so sweetly serendipitous.
Upon choosing a restaurant to bring my co-worker, Senior Vice President of Talent & Brands at ID-PR, Bebe Lerner, I thought it would be ironically adorbs to introduce Bebe to my favorite pancake spot in LA, Bea Bea's. However, as I've reviewed half the pancakes there already (and after discovering Bebe & I are Miracle Mile neighbors), I took my fellow blogger Beauty Frosting's suggestion and hit up local diner Nick's Coffee Shop & Deli.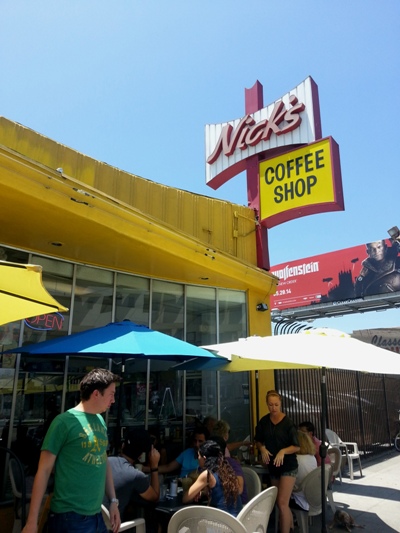 As we were walking down the street at the same pace, a man approached me and asked if I was going to Nick's. "Yes," I replied, "…are you?" "Why yes I am," said the man, "in fact, I own it!" To my surprise, owner Alan Love then proceeded to walk me in to Nick's, introduced me to the staff (including his granddaughter, also named Vanessa!), and seated me at a primo table. Alan informed me that while the space has been there since 1946, he purchased the diner in 1996, and his children & grandchildren all work there; in fact, the slogan on Alan's business card reads "Love at First Bite!" As a pancake-blogger, I can certainly attest, you can't go wrong with that phrase.
After then introducing Bebe to Alan, Bebe and I were finally ready to take a gander at the menu, and catch up.
Having worked in the Industry for over 20 years, Bebe Lerner has made quite an ID for herself in the world of entertainment. Prior to joining the publicity realm, Bebe was a feature film and television packaging agent at ICM, where she worked with many of the industry's top producers, writers, and publishing houses. Working at ID-PR for over 10 years, Bebe's current client roster includes Cameron Crowe, Chris Columbus, Emily Blunt, Kevin Williamson, Wes Anderson, Michel Gondry, Veronica Roth, Rian Johnson and many, many more. In fact, just sitting at the breakfast table learning from Bebe, hearing Industry tales and discussing creative pitching, I realized that perhaps for the sake of this review MY last name should be hyphenated to Fine-Lerner, and hers should just be: Sensei.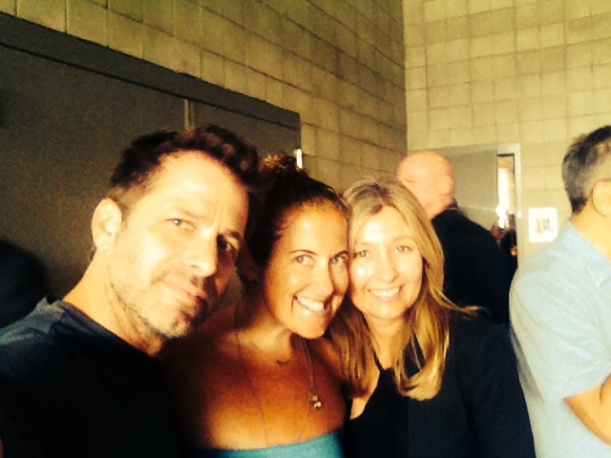 Bebe with Writer, Director, and Producer Zack Snyder (of Man of Steel, 300, Batman Vs. Superman: Dawn of Justice) and wife Deb Snyder, also a Producer of Man of Steel.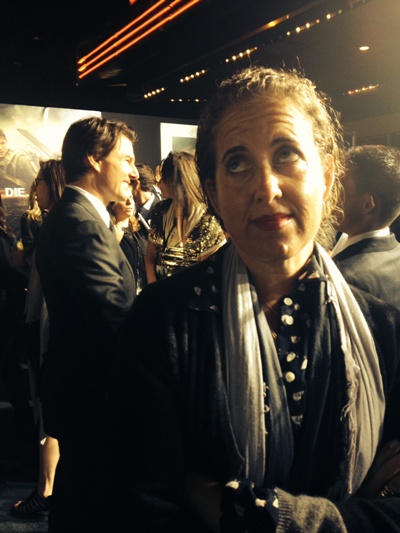 Bebe "with" Tom Cruise.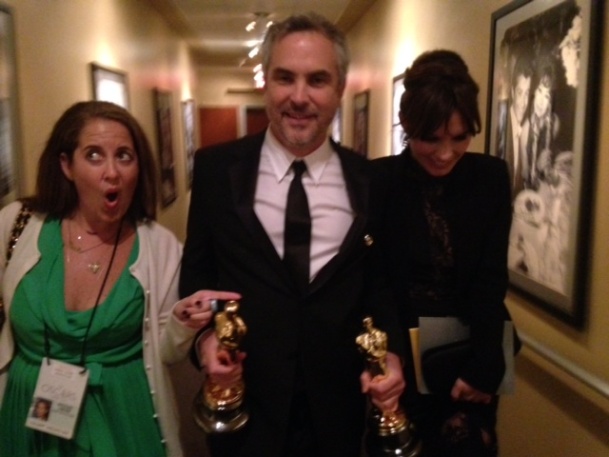 Bebe doing an Oscar Victory Walk with Gravity Writer and Director Alfonso Cuarón.
As Bebe and I finally put in our pancake order, I suddenly heard a "Hey Vanessa!" from across the room – and it wasn't for the Chef Vanessa. Sure enough, in walked an old colleague of mine from Columbia Pictures, Haley Anderson, who has apparently also worked with Bebe as well! After the three of us caught up for a few minutes, our pancakes finally arrived; continuing the theme of the morning, we'll just call this moment "sweetly syrupdipitous."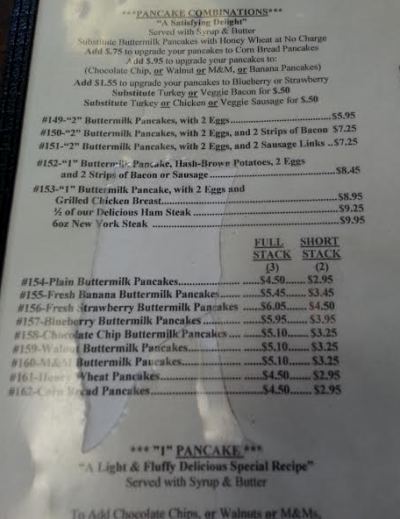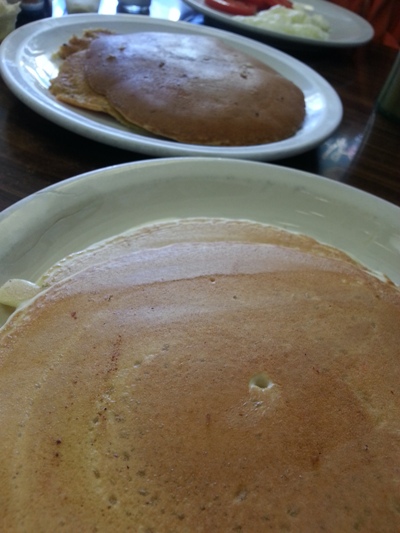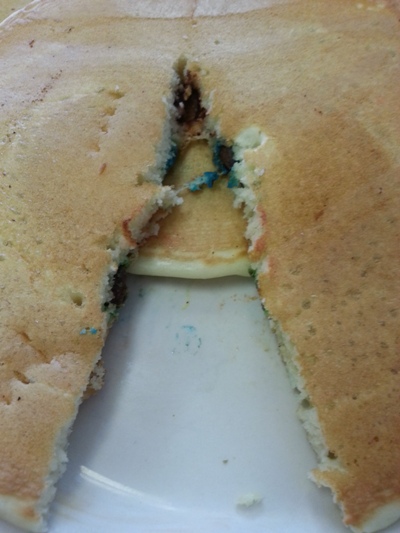 Bebe and I ended up ordering the Corn Bread Pancakes, Honey Wheat Pancakes with added bananas, and the M&M Pancakes, all to share. Figured we'd try as many as we could, all in one shot; although you'd think it was our Last Breakfast! While Bebe liked the Honey Wheat Banana Pancakes, her favorite were the Corn Bread as it's a rather unusual menu option, and she enjoyed the texture. My personal favorite were the M&M Pancakes, although they were a bit dry, and could use another egg.
When asking Bebe for her final thoughts, Bebe mentioned that the pancakes would have been better with something like homemade strawberry syrup – something with more flavor. She would also like smaller pancakes, with more flavored-options. Think samples. Alan Love, you listening? Turns out, Bebe actually makes her own delicious chocolate chip pancakes (my favorite kind), and she's experienced eating pancakes from all over the world! "Brazil had really good pancakes. Kenya, amazing." I guess Ma'amCakes might need to go global… Madame Pancakes, perhaps?
Thank you so much Bebe for being a part of Sunday brunch with Ma'amCakes! Be sure to look for Bebe, and all of her uber talented clients, during the 2014 Awards Season!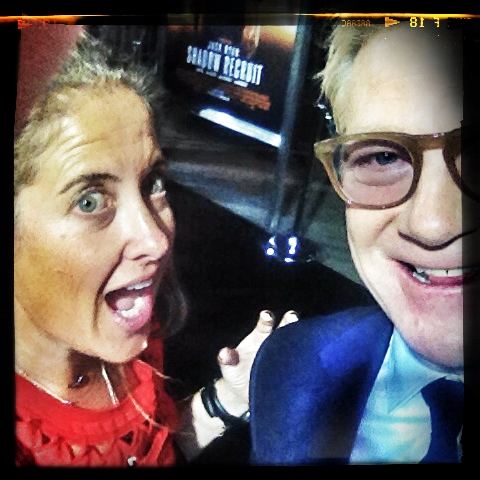 Bebe with Actor, Director, Producer Kenneth Branagh of Frankenstein, Hamlet, and Thor.