Right before the holidays, I was incredibly honored to have Comedian and Actress Kim Coles join me as a Guest Reviewer for Ma'amCakes!
Kim, best known for her work on In Living Color, and Living Single, has also appeared on many television shows including Frasier, Six Feet Under, Celebrity Fit Club, and The View.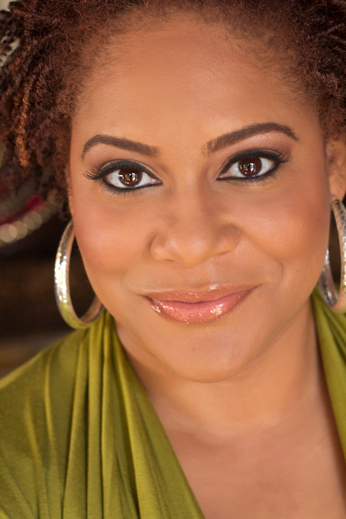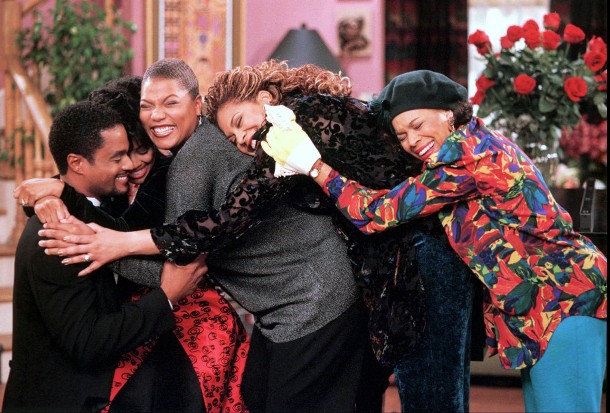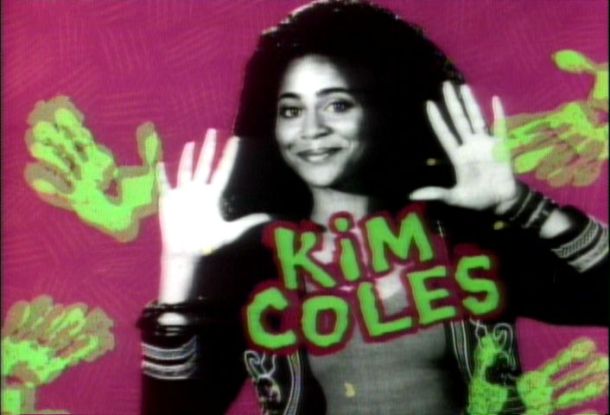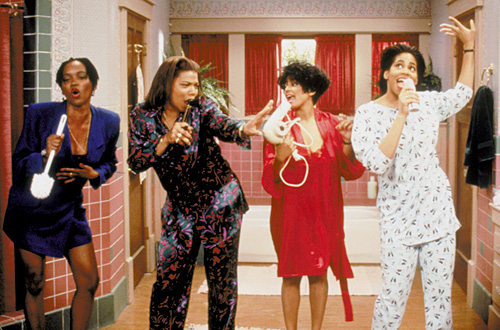 Although I typically don't mention how I meet my Guest Reviewers, Kim and I have a rather cosmic connection, as I actually met her on a night that I lost my job. That evening, I happened to be partaking in part-time promotional work for one of the studios, and my assignment was at The Comedy Union on Pico Boulevard in Los Angeles, CA. Kim, who was performing that night, along with the owner, took me under their wings, fed me drinks, and helped me figure out a plan of action. Of all the nights to lose your job, but still have to work an additional gig, I couldn't have asked to be around more caring, positive, and hilarious people. For that, she should maybe consider changing her name to Kim Cools.
As fate would have it, a few weeks later I happened to spot Kim at JFK Airport in New York City(!), and to make sure it was really her, I Tweeted her just to confirm. Next thing I knew, I was in a three-way Tweet convo between Kim and Sherri Shepherd that unfolded like this: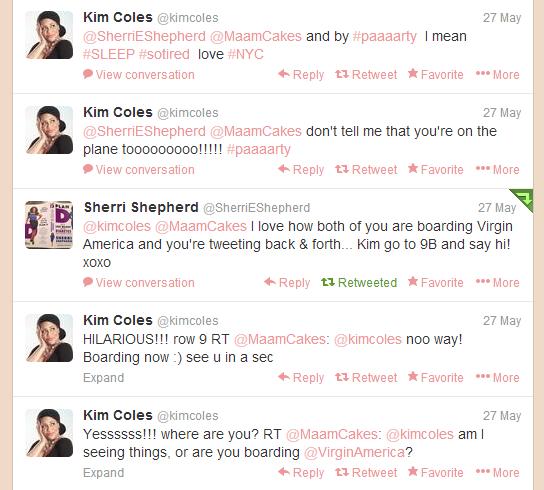 And finally, as I've locked myself in my apartment to write this review on a Saturday night (that makes me a serious writer, by the way), low and behold I discovered that today is Kim's birthday. Coincidence? I think not!
Upon choosing a restaurant for our review, Kim informed me she was eating gluten-free, so I took her to… any guesses?? Bea Bea's! Not only do they have some of the best pancakes in Los Angeles, but they have the largest amount of gluten-free breakfast options I've ever seen; I mean, check out this extensive menu!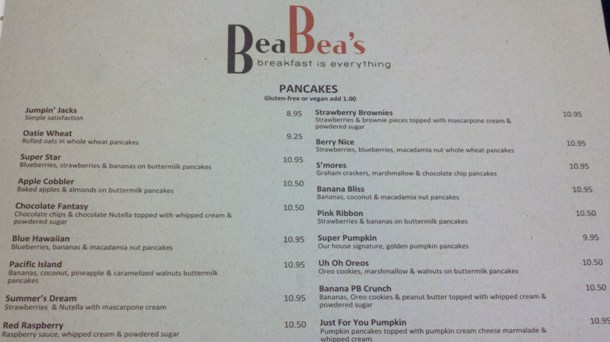 Kim mentioned she had many fond memories in that part of Burbank, as Living Single was shot down the street at Warner Brothers.
When repeating restaurant locations for a review, I typically try to order pancakes I've yet to experience from the menu, and Bea Bea's is no exception. So, during this outing, I went with the Pink Ribbon.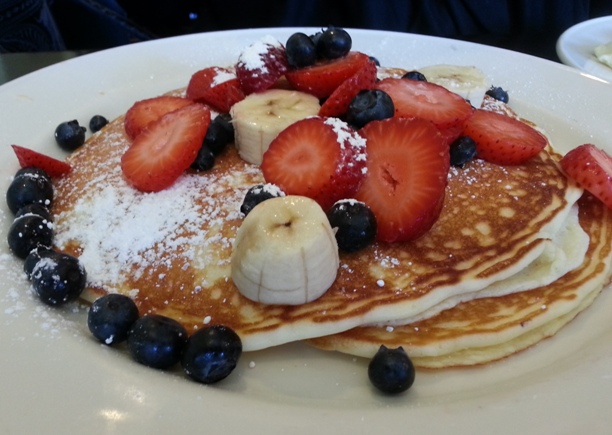 Talk about In Living Color! The freshness of the strawberries, blueberries, and bananas is making my mouth water all over again; throw in the pancakes, and I might start licking my laptop screen! The Pink Ribbon pancakes at Bea Bea's are everything you'd imagine them to be, and more. But what's the best part about these pancakes, you ask? The fact that they don't need a drop syrup. After all, Ma'amCakes' is motto is: that a truly delicious pancake doesn't need syrup.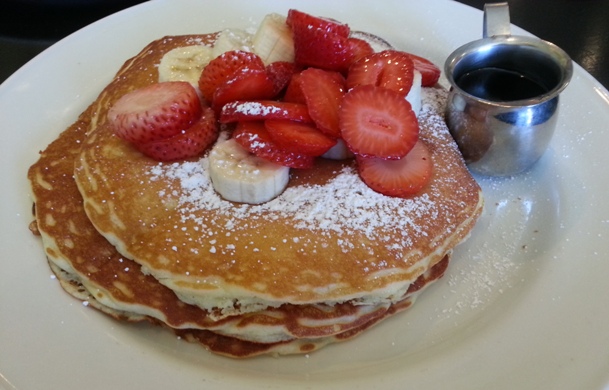 Kim decided to go with the Pooh's Sunrise (which, FYI, is on the back of the menu), so that she could incorporate bacon and eggs into her meal, and also asked to switch the maple syrup for agave. Kim definitely enjoyed her food. "These are amazing," said Kim. "And the best part is that they don't make my tummy hurt, like typical pancakes can do." When asking Kim which pancakes she would try next time, Kim replied "Either the Chocolate Tuxedo or the Chocolate Fantasy." With those choices, I'd be perfectly happy to be her partner, er, pancake in crime for the next outing!
Thank you so much, Kim, for being a part of Saturday brunch with Ma'amCakes! Be sure to check out Kim's Gratitude Journal, and for those of you in the LA area, you can see Kim in her one-woman show at the Pasadena Fremont theater on February 21st and 22nd, as well as her performances at The Comedy Union.