In spite of a 4 hour delay at the airport, flying directly into a thunderstorm, then experiencing a snowstorm by the following evening – all in mid-May – I finally made it to Denver to visit my BFF. Upon tweeting various Denver news outlets for pancake recommendations, I received quite an enticing tweet from Visit Denver, enough so to lure me out of the house and into the freezing cold May Saturday: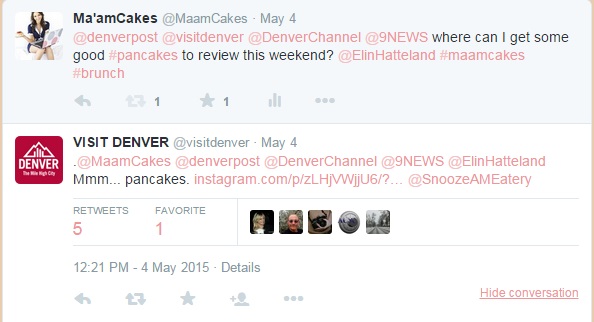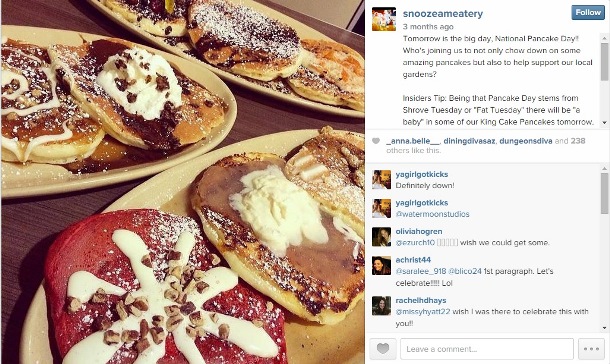 I figured since the weather was terrible that we'd get seated right away; much to my surprise, the wait was an hour and a half! (What's the wait like on a good day?! Was everyone in Denver just severely hungover this weekend?)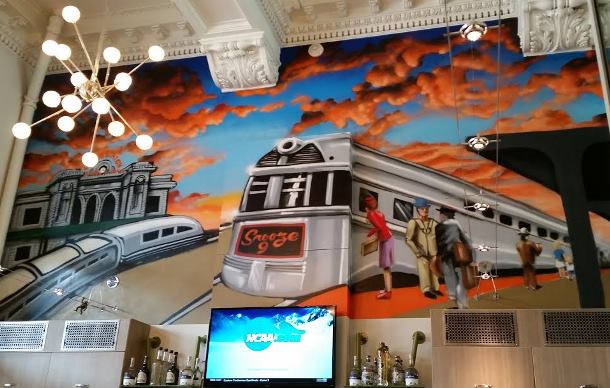 While waiting for our table and ingesting the ambiance of Snooze Eatery, I noticed a little treat to the left of the hostess stand: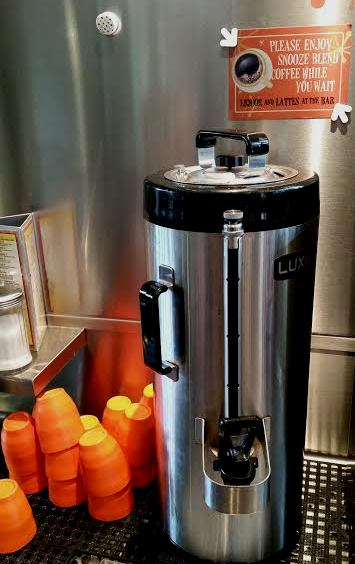 Free self-serve coffee while in line? That's certainly one way to entice customers to wait the hour and a half! Fortunately for me, having a pancake blog did help lessen my wait time – or maybe I should say, traveling from LA to Denver in a thunderstorm and purposely eating my first meal at Snooze Eatery is what got me a seat! That is what you call dedication, after all.
Looking at the menu, I noticed the most important word (besides pancake) was left for the end…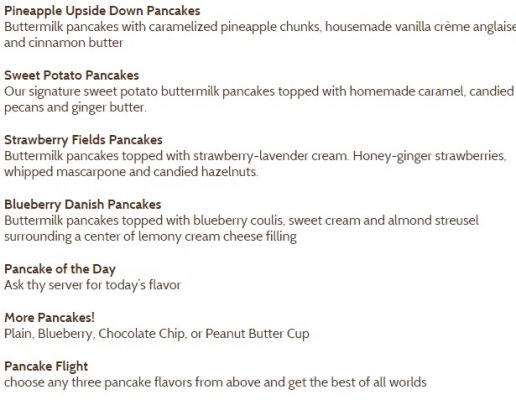 A FLIGHT of pancakes? Like a flight of wine?! What could be better! (Perhaps a pancake/alcohol flight combo… thoughts, Snooze?) Well as you can imagine, I chose this option and selected my 3 pancakes more carefully than selecting my last boyfriend.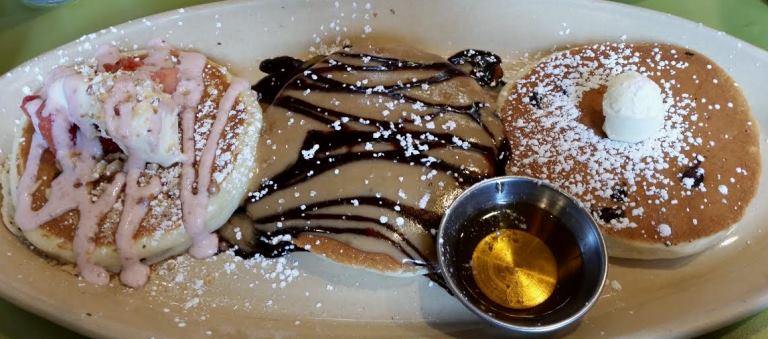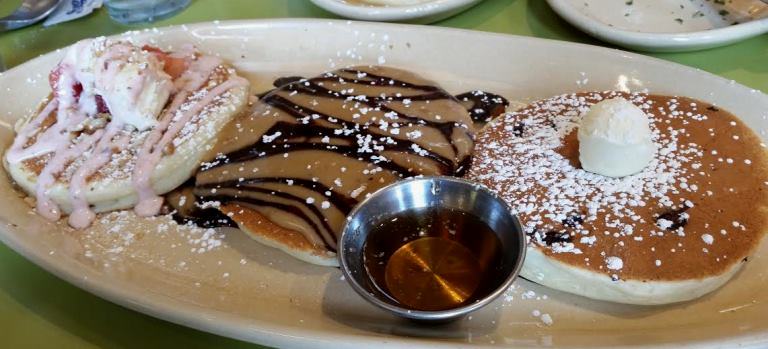 I ended up choosing the Strawberry Fields – which is only seasonal by the way – Peanut Butter Cup, and Chocolate Chip. Out of all 3 I'd have to say my favorite was the Peanut Butter Cup, but I did particularly enjoy the strawberry-lavender cream on the Strawberry Fields. To their credit, all 3 pancakes tasted exactly as they sound: decadent, sweet, and delicious, but most importantly: memorable. Just when I thought breakfast couldn't get any better, I was suddenly surprised with an extra pancake placed on my table.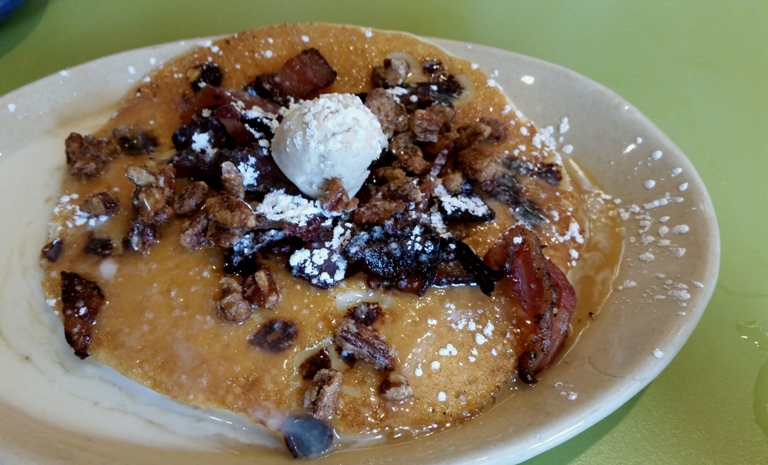 The wonderfully generous employees of Snooze rolled out their flapjack carpet and surprised me with a pancake that's not even on the menu! It's apparently called the Sinful Pancake, but for all intensive purposes I'm just going to call it the Ma'amCakes Surprise. This beyond delicious treat included a buttermilk pancake with white chocolate chips, bacon and candied pecans, while topped with vanilla anglaise , cinnamon butter, caramel and powdered sugar. Believe it or not, out of all (4) pancakes, this was by far the best. I certainly recommend that Snooze put these bad boys back on the menu but if not, for all you FanCakes, just ask for the Ma'amCakes Surprise upon placing your order.
Overall, I had a wonderful experience reviewing my first pancakes in Denver. While I do wish I sampled some from a mom-and-pop restaurant in addition to Snooze, it is nice to know I can grab these pancakes in San Diego for any future cravings (there are also restaurant locations in AZ as well). I do wonder why the restaurant is called Snooze… maybe it's because you need a hefty nap after this meal!
Well FanCakes, be sure to check out Snooze Eatery during your next visit to Downtown Denver – just maybe put your name on the list and go shopping in the meantime, cause you could hit the snooze button a few times before you're actually seated!