Hi everyone, welcome to Ma'amCakes! My name is Vanessa Fine, and my favorite type of pancakes are Chocolate Chip.
Why am I blogging?
For some, Sunday is designated as a day of rest, a day of football, or a day at Bed Bath & Beyond. From a very early age, growing up in New York City, Sunday was spent helping my mom make chocolate-chip pancakes. I very much enjoyed the quality time spent with my mother while baking; we'd put on music and have long talks, while sneaking in a few chocolate chips, of course.  Once my two brothers were born this became more of a familial event, but we didn't mind the extra hands. For me, Sunday mornings were about bonding with my family over a pancake-breakfast, while procrastinating from doing homework.
After moving to Los Angeles at 23, my already keen sweet-tooth skyrocketed when discovering all the delectable breakfast spots right here in my neighborhood.  In the beginning, I ordered simple buttermilk pancakes; after visiting several breakfast nooks, I found myself comparing the buttermilk pancakes. Some were doughier than others, some needed more syrup, and some didn't need syrup at all. Now, I am all about the cake part of the pancake. To me, pancakes are like steak: the best ones don't need much of a liquid topping. These types of opinions slowly became my breakfast conversations, and I was even called a Pancake Olympian by someone close to me.
Towards the end of 2011 I visited Black Cat Bakery and Cafe on Fairfax and Maryland, and upon ordering, I asked the server if their Chocolate Chip Pancakes were pancakes with chocolate chips, or if they were actual chocolate chip pancakes. When the server stared like a deer in headlights, it was at this moment I realized: I'm going to blog. I'm going to blog for every pancake-lover in the LA-area. I'm going to blog so local restaurants will compete for the best pancake. I'm going to blog for the hungover in need of something greasy, but won't make them sicker. I'm going to blog for tourists who want to try something new, with a bit of a taste from back home. I'm going to blog about what I like about pancakes, because I've come a long way from the days of Bisquick on Sundays in New York City.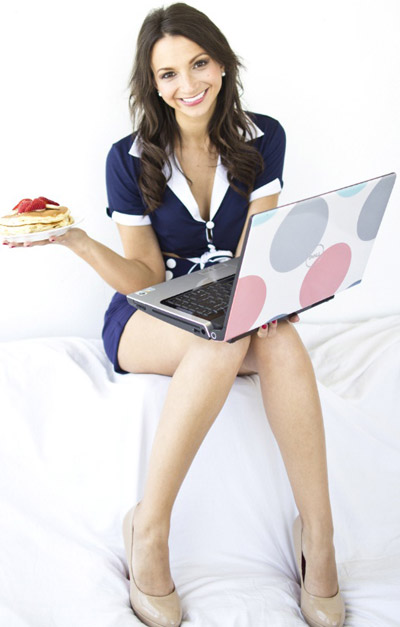 photo courtesy of Raul Villarreal/RAwkfoto